Importing the Project
Files are imported through the S1// Projects tab, Fuse will not allow you to open the S2// Diagnostics tab until a file has been imported.
There are several external data import options in the 'Get External Data Form Group':
Microsoft Project
Oracle Primavera
Microsoft Excel
Deltek Open Plan
Cobra Cost Data
IPMDR Schedule Format
Pheonix Project Manager
Asta Power Project
UN/CEFACT XML Schema
Safran
For the purposes of this document, we are going to look at importing and running the Schedule Quality Assessment on a Microsoft Project file.
Step 1 – Open Deltek Acumen® Fuse
Step 2 – In the S1//Projects tab click on the Microsoft Project icon in the 'Get External Data Form' grouping: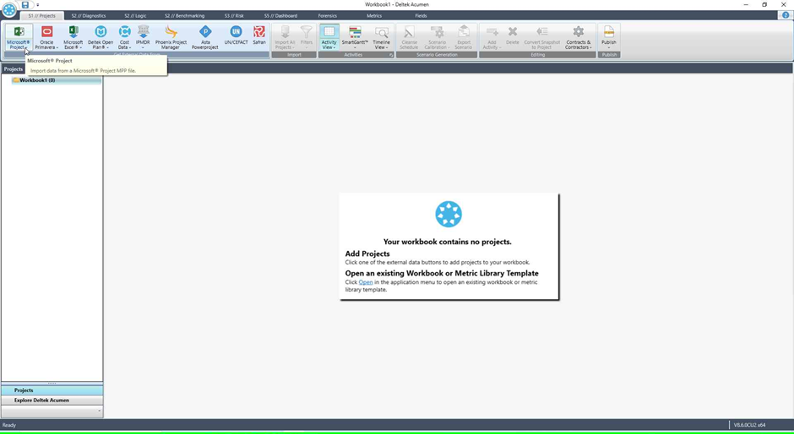 Step 3 – From the drop-down list select the appropriate import option, in this case we will select the first option (Import data from a Microsoft® Project MPP file):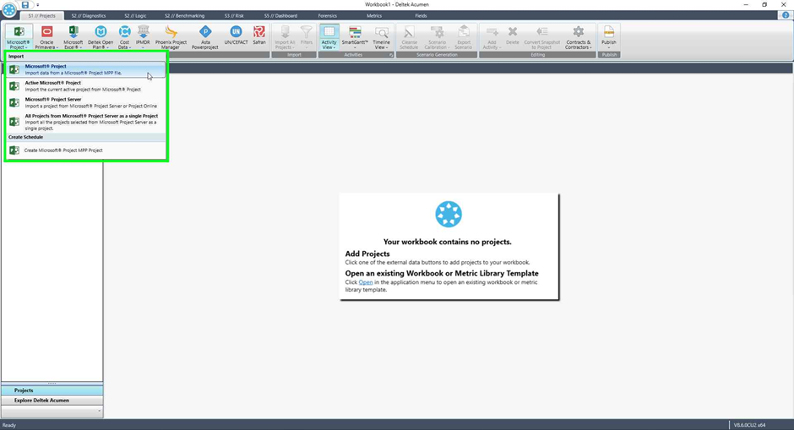 Step 4 – Select the file you wish to import and click on 'Open':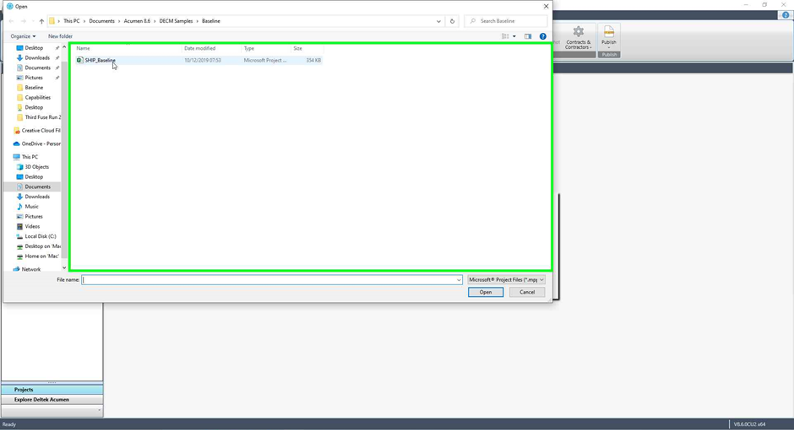 Step 5 – Click on 'Import All Projects':
Step 6 – The file has now imported into Deltek Acumen® Fuse: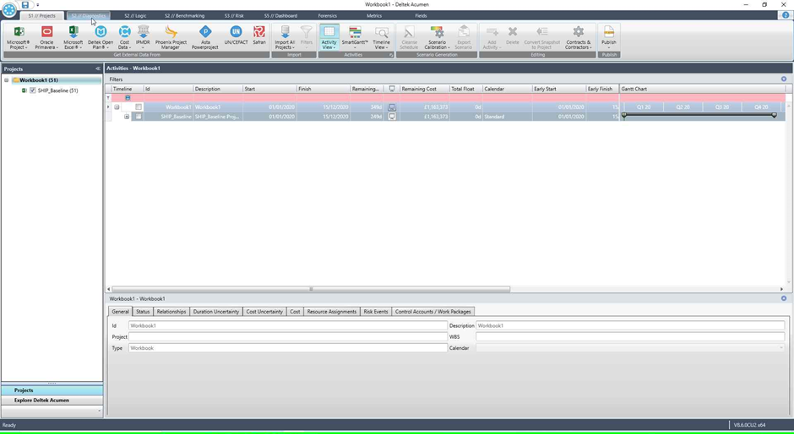 Running the Schedule Quality Diagnostics
Now the project file has been loaded you can open the S2// Diagnostics tab. This is where we can analyse the file or files that have been imported into the software.
The tab includes a Ribbon Analyser at the top, Phase Analyser to the right and several Schedule Quality check tabs at the bottom of the screen.
To run the diagnostics the following steps can be followed:
Step 1 – Select the S2// Diagnostics tab: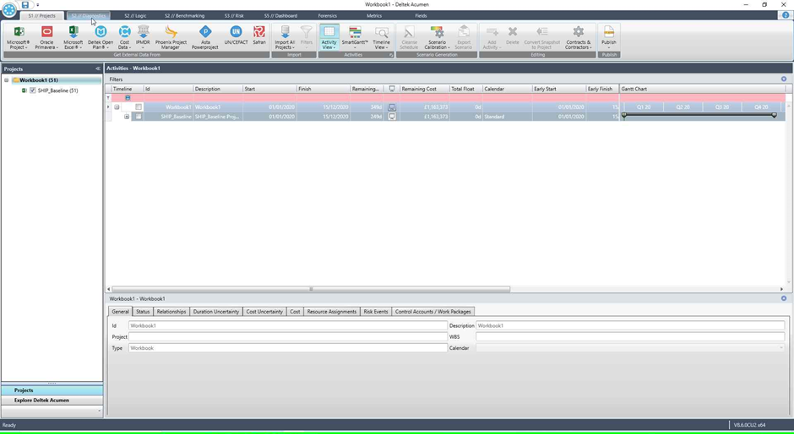 Step 2 – Click on the 'Fuse' icon, note in this example we have the 'Schedule Quality' tab selected at the bottom of the screen: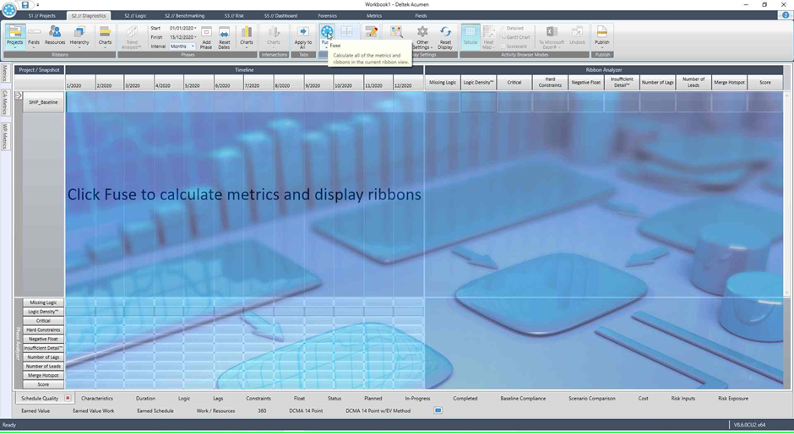 Step 3 – The analysis has run, and the results are visible: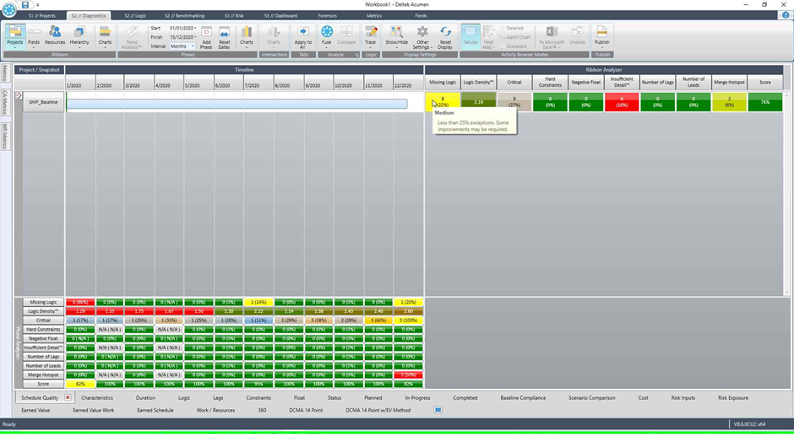 Step 4 – Details of the activities driving the results can be seen by clicking on the metric in question: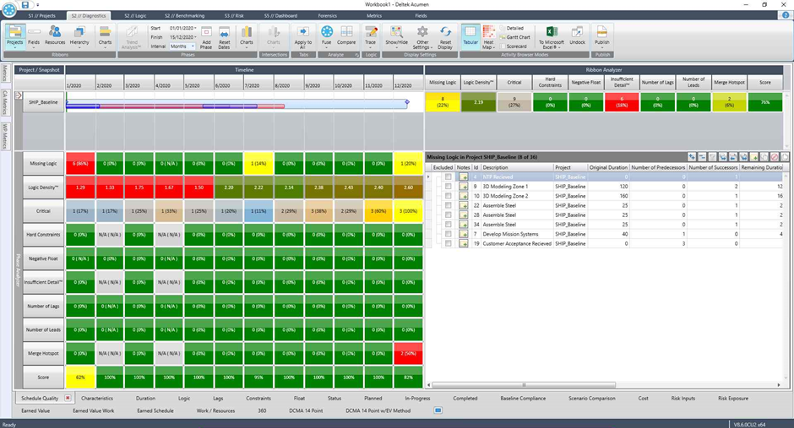 That concludes a basic introduction to importing files and running a Schedule Quality Check in Deltek Acumen® Fuse.
Please download a copy below:
See our Case Study – Amey Consulting (National Highways) where we utilised Deltek Acumen Fuse to run Schedule Quality Checks to meet National Highways schedule criteria.
Book a Training Course
Xacom provides multiple Project Controls associated training at our training venue in Preston, we can also provide training on clients sites upon request.