What is Schedule Quality?
Understanding the quality of a schedule is an important part of developing and maintaining the schedule through the lifecycle of the project. These checks help to pin-point where there may be issues with a schedule which may impact on robust forecasting, Quantitative Risk Analysis and Resource profiling.
Xacom uses Deltek Acumen® Fuse to run Schedule Quality Checks, this solution enables us to run a multitude of checks such as but not limited to:
DCMA 14 Point Check
Fuse Quality Metrics
Logic
Constraints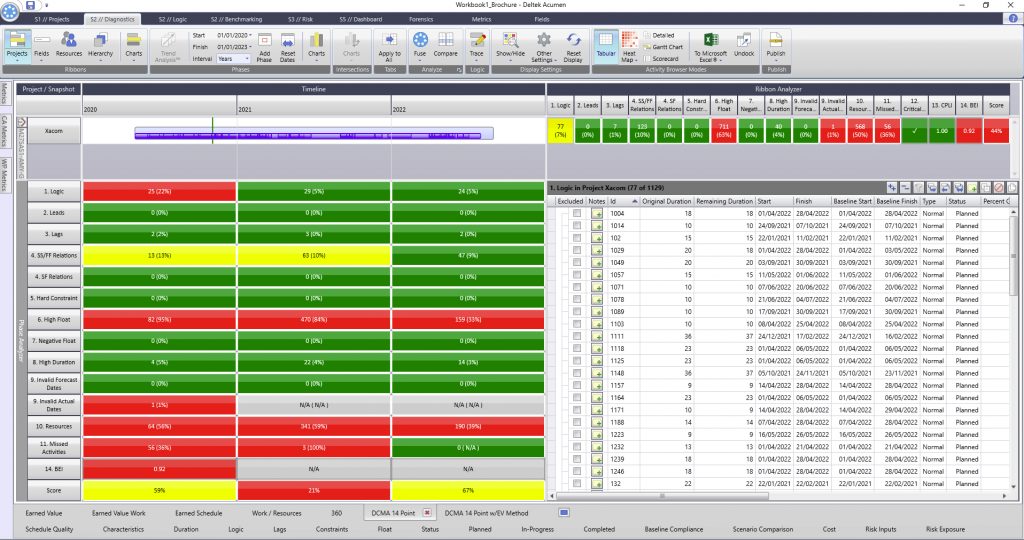 What are the Benefits?
Improved robustness of schedules and confidence in the outputs provided for informed decision making
Adherence to contractual requirements where schedule quality checks are required
Increased confidence of schedule quality by addressing potential issues prior to submission to the end client for acceptance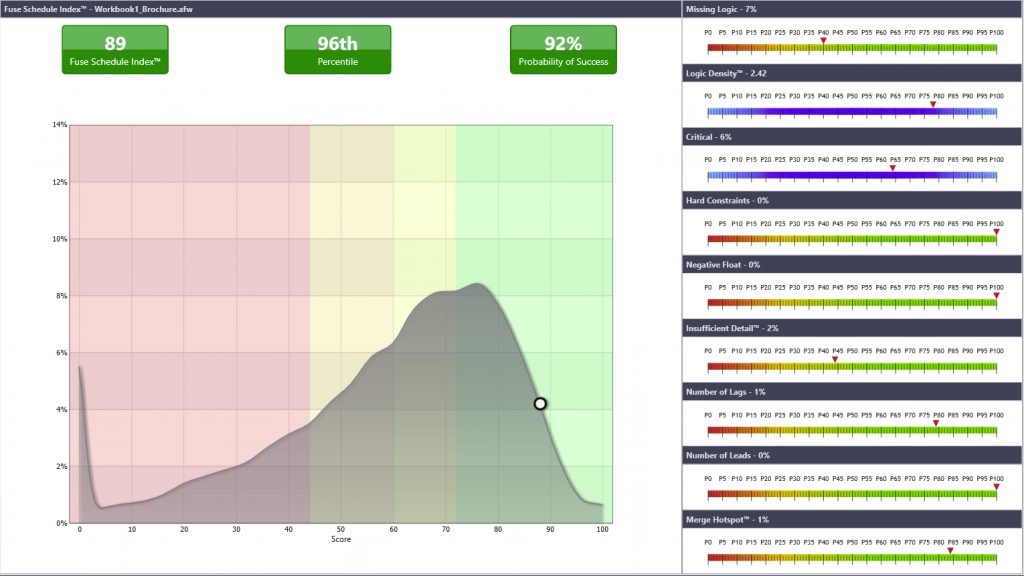 When is the Right Time?
The checks can be run at any time, typically they are run prior to submission to the end client for approval and acceptance. This is usually on the initial schedule to be baselined and on each periodic update or major change to the baselined schedule.
What Outputs do we provide?
Depending on the clients' requirements several outputs can be provided:
Standard Fuse Executive Briefing
Detailed Analysis reports identifying individual activities contributing to quality issues
Summary Metrics
Benchmarking
Fully Analysed detailed report and recommendations
How do we deliver this service?
To speed up the process of analysis and increase the value to our end clients Xacom invested in Deltek Acumen® Fuse, a market leading Schedule Quality Assessment tool.
We require the core schedule file from Microsoft Project, Primavera P6, Deltek OPP or Asta Powerproject which we then load into Deltek Acumen® Fuse to run the diagnostics.
For programmes of a sensitive nature, we recommend that the task descriptions are re-labeled to numeric values.
What our clients say
"Just wanted say a big thanks for the support you have provided Amey on M27 and other projects. Xacom were instrumental in helping us develop our programmes on a number of schemes to meet NEC3/4 and our clients requirements for submission acceptance. It's been a challenging time due to the COVID19 restrictions yet Xacom has delivered an exceptional service in a remote working landscape."

Programme Director
Darren Bearwish – Amey Consulting
Please download a copy of our Schedule Quality Brochure below:
Book a Training Course
Xacom provides multiple Project Controls associated training at our training venue in Preston, we can also provide training on clients sites upon request.